Welcome to ArtModels360
  ArtModels360 features a wide variety of models
Thousands of poses to choose from!
ArtModels360 provides high quality figure model reference photos for painters and sculptors and is also perfect for students.  The custom interface allows you to rotate the model 360 degrees to get the perfect perspective from any angle and most poses feature full 3D rotation including views from above.
 Drag on the above image to rotate the view – Click on + icon to zoom
ArtModels360 provides a number of unique and valuable features for sculptors and painters
A wide variety of models and body types so you will find real variety
More than 2000 poses to choose from
Clothing options including nude, form-fitting and fully clothed
Easy and intuitive to use – simply drag left and right on the image to rotate the model
3D rotation is available on many of the poses. Simply drag up and down to rotate the model to see an overhead view
Quick and powerful search and filter tools  using the Pose Picker to find just the right pose
Download a high resolution grid of all angles photographed for future reference or to print
Full access to ArtModels360 for a full year is very affordable and provides access to all models and poses
A short video explaining ArtModels360's features:
Use ArtModels360's Pose Picker to find the perfect pose for your next project
The Pose Picker is always available just below the main menu. Use the check boxes to limit your search to just the type of models and poses you want. Use the Reset button at the bottom of the Pose Picker to clear all check boxes and start over.
Once a category is checked the Pose Picker will update its display of the number of available poses within that choice. Note that many of the choices are mutually exclusive. For instance, if you choose "Female" then you won't find any male models with the female group.  If you want to see both male and female choices then leave both unchecked.
Two ways to view
ArtModels360 provides two ways to view each pose. If you like the interactive approach you can simply drag left or right on the image to rotate the model around a full 360 degrees. Drag up and down to rotate the image vertically to see an overhead view.  There are also small icons at the bottom of the image to rotate left and right. The "+" icon zooms in to look at fine details. Once zoomed in you can use the "-" icon to zoom back out.
If you prefer to work from a static view there is also a simple grid showing the various angles of view of each pose. Click on the grid to go open a high resolution version of the grid. The high resolution grid can be downloaded to your own computer for later reference or to be printed.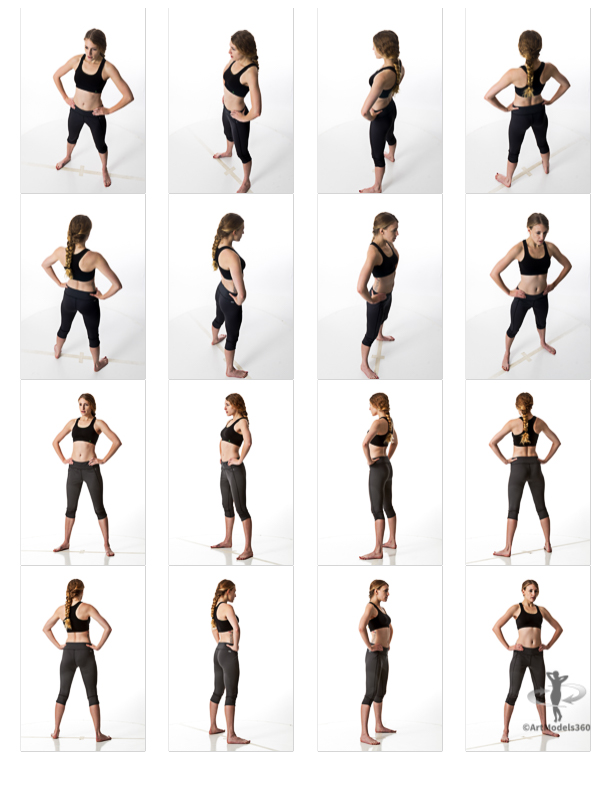 Click on Grid View for full size image
Do you have a need for a specific model or pose? Let us know what you're looking for and we may be able to provide it. If you need it there are probably others with the same need.
For more information contact info@artmodels360.com.